If you want to improve your overall fitness, you should include high-impact cardio exercise in your routine. Not only will this type of exercise help to burn calories, but it will also help to boost your cardiovascular health and endurance.
This article will outline some of the most effective high-impact cardio exercises and explain why they are so important. Ready to see some results?
What Is High-Impact Cardio Exercise?
When you do a high-impact exercise, both feet leave the ground simultaneously. It requires a lot of running and jumping, which are particularly hard on the feet and joints. If you want to burn more calories, jumping around is an excellent method because it raises your heart rate quickly. High-impact exercise is also good for the bones.
What Are The Examples Of High-Impact Cardio Exercise?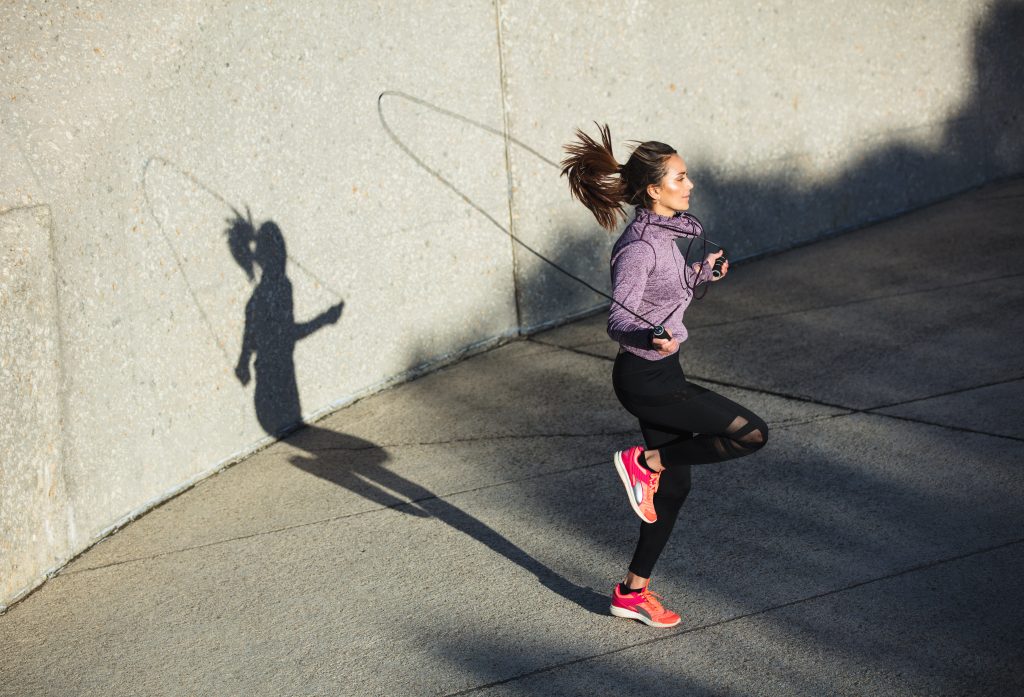 Jumping Rope
Quick, simple, and a great calorie burner. You may recall doing this for hours as a child, but you won't believe how tired you get doing it now.
Keep your abdominal muscles firm and your back straight.
Use your wrists, not your arms, to pull the rope.
Keep your elbows close to your sides and your shoulders down and back.
Try not to jump too high; instead, focus on gaining only a few inches of airtime.
After you've mastered the fundamentals, work on increasing your jump rope endurance bit by bit.
Jumping Jacks
Do you recall doing jumping jacks when you were a child? This activity is a high-impact cardio exercise that boosts stamina, strength, and body coordination.
To do a jumping jack correctly, you should stand with your feet and arms at your sides.
To land properly after a jump, your feet should be slightly apart.
As you jump, put both arms aside and clap your hands above your head.
Repeat the previous jump and land where you started.
Do this 10-15 times.
Burpees
Burpees consist of a squat, a jump, a landing, and then a plank, followed by a pushup. They're excellent for putting a lot of strain on your lower and upper limbs. By increasing your heart and breathing rate simultaneously, burpees are a perfect way to get a quick cardio boost. It also boosts your power and stamina.
Jogging In Place
Spread your feet as wide as your hips and start running in place.
Get your heart rate up with some mild jogging.
If there's room, try sprinting 10 feet forward.
Frog Jumps
Start in a wide stance with your feet slightly turned outward to make a froggy jump.
Make a squatting position with your legs, bringing your hands down to the floor.
Do a quick hop, landing softly before resuming the wide-legged squat position.
Do this exercise 10-15 reps.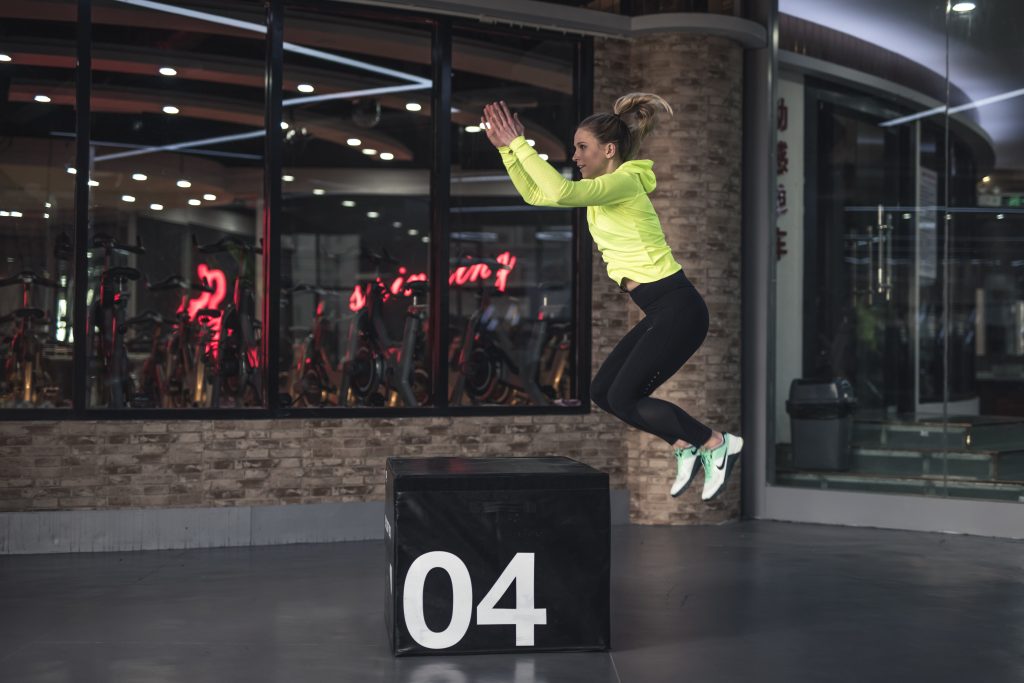 Plyometric Box Jumps
Plyometric box jumps are a fantastic high-impact exercise option to increase your leg power.
To do a box jump, you stand in front of a sturdy box and jump with both legs onto it.
Jump down and land softly.
Take it easy at first because making a mistake could result in serious injury. Typically, a beginner will utilize a box that is 8 inches to 12 inches in size. After a few weeks or months of practice, you can raise the box's height to 18, 20, or 24 inches.
Adding a higher box to your jump set will increase the difficulty of your box leaps. Alternatively, you can increase the challenge by jumping in a different direction or off the box and landing on just one foot.
Long Jumps
Long jumps are plyometric exercises.
You'll want to stand with your feet hip-width apart and your knees bent.
Maintain a steady stance by distributing your weight evenly.
Plant both feet firmly to the ground to establish a solid footing.
Keep your back straight while bending at the hips, knees, and ankles.
Get down into a quarter squat stance by bending your knees.
Start your forward motion with a powerful thrust into the ground, almost like a jump.
Your arms should start swinging forward as your legs begin to straighten.
As you come down from a jump, land with your weight distributed across your feet and your knees and hips bent to cushion impact.
Maintain the same position on the ground as you did in the air when you jumped.
Squat Jumps
This exercise is a high-impact exercise that can build strong glutes, hams, quads, and calves. Additionally, they can increase heart rate rapidly, which is good for cardiovascular health and weight loss.
Stand with your feet about shoulder-width apart to do squat jumps.
Bend your knees and squat, so your arms dangle loosely at your sides.
Then, perform a squat jump with as much height as possible, landing gently with bent knees and a new squat stance.
Do this for 10-15 repetitions.
Rugby
Rugby is a sport where you are usually only active for 20 to 30 seconds at a time, even though a typical game lasts 80 minutes. Rests of the same length usually follow these active periods. Repeat this every 30 minutes.
Rugby is primarily an anaerobic sport, but there is a need for the body to switch back to the oxygen system in between bursts of high-intensity play.
Tennis
Playing tennis is a full-body workout. It requires you to change direction, constantly running forward, backward, and laterally. High-impact exercises like running like this help build muscle and increase mobility in the lower body.
When playing tennis, your arms also take a beating from the impact of the ball striking the racket. Practicing this will help you build stamina and strength in your upper limbs.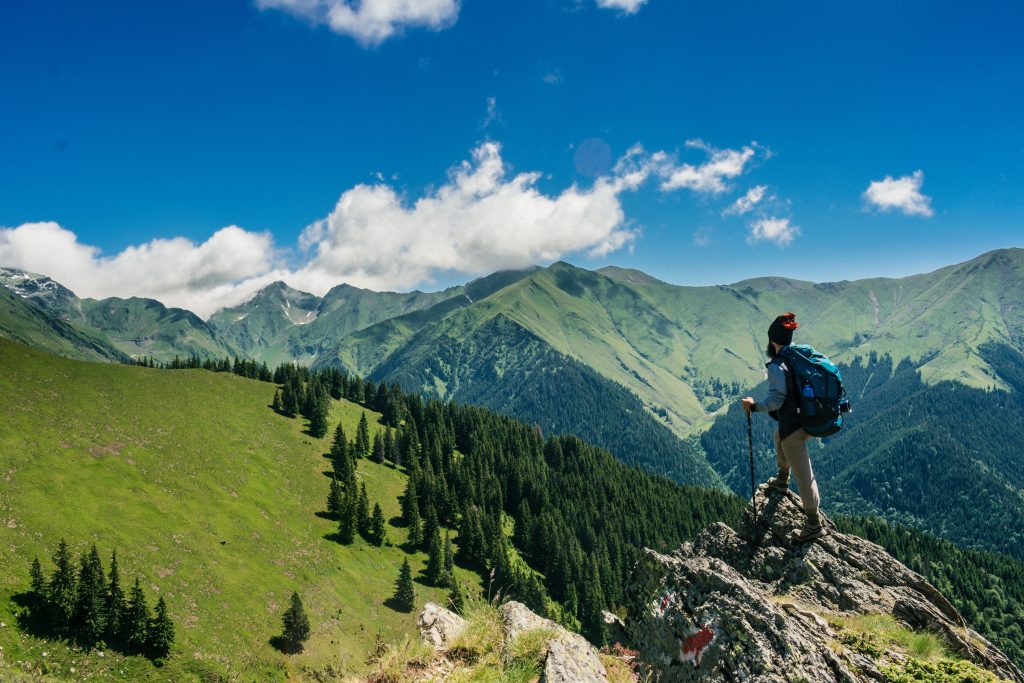 Hiking
If you're looking for versatile exercise, hiking is an excellent option because you can tailor your route to your skill level. Increase your impact by hopping from rock to rock or descending and ascending the mountainside.
Whenever you jump and land, you get the benefits of high-impact exercise.
Calisthenics
Calisthenics refers to exercises in which you use your body weight as resistance. This exercise are short bursts of activity that get your whole body moving. You'll do each move ten to twelve times. Depending on your fitness level, you can do more if you like. It is great for building muscle endurance or the time you can spend exercising at a high intensity.
Pros And Cons Of High-Impact Cardio Exercise
Pros
It helps you burn more calories when exercising by increasing your heart rate.
Strengthens bones
Strengthens your core, increasing your stability, balance, and coordination.
It improves cardiovascular and respiratory health.
Enhances general fitness that boosts athletic performance in a variety of sports.
Helps lower your risk of falls.
It enables you to tone your body, making you look and feel great.
Cons
It can be very uncomfortable for those with arthritis or other joint disorders.
Without proper cross-training, there is a risk of developing overuse injuries.
The impact is roughly 2.5 times your body weight, which could stress ligaments and tendons.
A person who does low-impact exercise is more likely to get injured.
People with osteoporosis should avoid high-impact exercise.
It may cause stress incontinence, especially in women who have given birth.
Women may be prone to bladder leaks due to bouncing in high-impact exercises.
Frequently Asked Questions (FAQs)
Is High-Impact Cardio Good For Weight Loss?
If you want to get the most out of your workout, choose an activity with a strong impact. Exercises with high-impact burn extra energy and calories. Using this method will help you lose weight faster.
Does Impact Build Muscle?
Because of their greater difficulty and physical demands, high-impact exercises aren't for beginners. However, suppose you want to get in the most remarkable shape possible as quickly as possible and are willing to put in the work. In that case, high-impact training may be the way to go.
Why Is Cardio Exercise Important In Sport?
High-intensity training is essential for success in any kind of competition or sport. Due to their efficiency, these routines are better than others.
Is High-Impact Exercise Good For Bone Density?
High-impact exercise is beneficial to bone health, although this may seem contradictory. Regularly putting the bones under sudden stress frequently encourages bone growth and strength. Signing up for high-impact exercises is excellent if you're older, not at risk of getting hurt, or just want to improve your bone density.
Compared to low-impact exercises, high-impact ones are better at bolstering bone strength and increasing bone density. Bones are living tissue-like muscles that respond to stress by growing in size.
Can High-Impact Exercises Be Different Intensity Levels?
Injuries to the bones and joints are more common during high-impact workouts. Exercise like this isn't for those who are more prone to injuries. This includes the elderly, expectant mothers, and anyone with specific bone problems.
High-impact exercises can also be high-intensity, increasing heart rate and calorie burn compared to less strenuous activities.
A Note From Gulf Physio
We hope you've enjoyed learning about the subject matter above. This blog post is not a substitute for medical advice. The author cannot guarantee the accuracy of the information presented. If you have any questions or concerns, please consult a healthcare professional. All decisions and actions you make are your own. No one involved in making this resource is liable for its use.