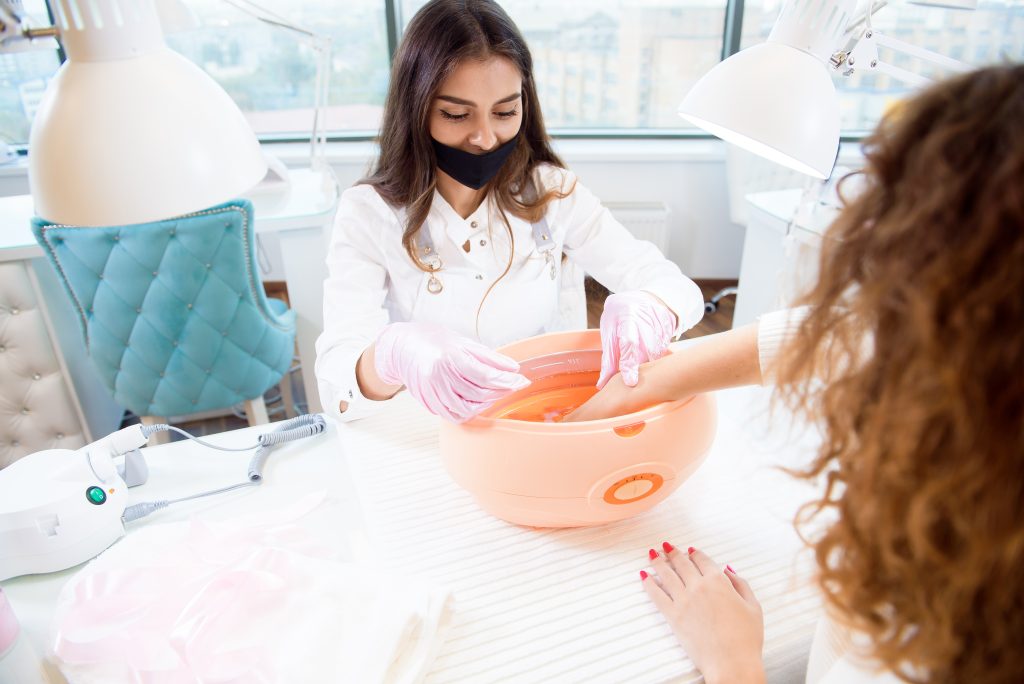 The original paraffin wax bath therapy originated from petroleum products and had no known health benefits. Still, modern paraffin consists of natural ingredients and has many health benefits.
You may have heard that people use this product because it has some therapeutic benefits. Paraffin wax baths are an effective treatment for joint pain and stiffness. They help relieve inflammation while increasing circulation in the treated area. Check out this article to learn more about paraffin wax's uses, benefits, and side effects.
What Is A Paraffin Wax Bath?
Paraffin wax is a mixture of hydrocarbons that originally came from petroleum. Nowadays, it's usually derived from plants such as soybeans or cottonseeds. Paraffin wax therapy uses a warm bath of melted wax. Taking a paraffin bath relieves hand and foot pain by encircling the body in warm wax. Which promotes circulation, relaxes tight muscles, and relieves aches and pains.
Paraffin Wax Machine
The paraffin wax machine consists of enameled baths, stainless steel, and a fiberglass shell. It has a thermostat, a pilot lamp, and a lid cover container so you can move it around. The thermostat keeps the temperature adjusted with a knob.
How Does It Work?
Paraffin wax gets heated in a dipping bath. It gets applied to the skin for 15-20 minutes. The heat and wax draw moisture from the skin and into the wax, which then hardens. It helps relieve muscle tension and pain.
How Do You Apply It?
Paraffin wax treatment is simple. The therapist applies a thick layer of paraffin wax to the skin and wraps it in plastic wrap or gauze. The client then sits in a warm room while the paraffin hardens. The length of time varies depending on how much the therapist applied wax. When the therapist removes the hardened paraffin, they will remove it by rubbing it off with a towel.
Paraffin wax treatment does not hurt, and there's no need for anesthetic cream.
Methods of Application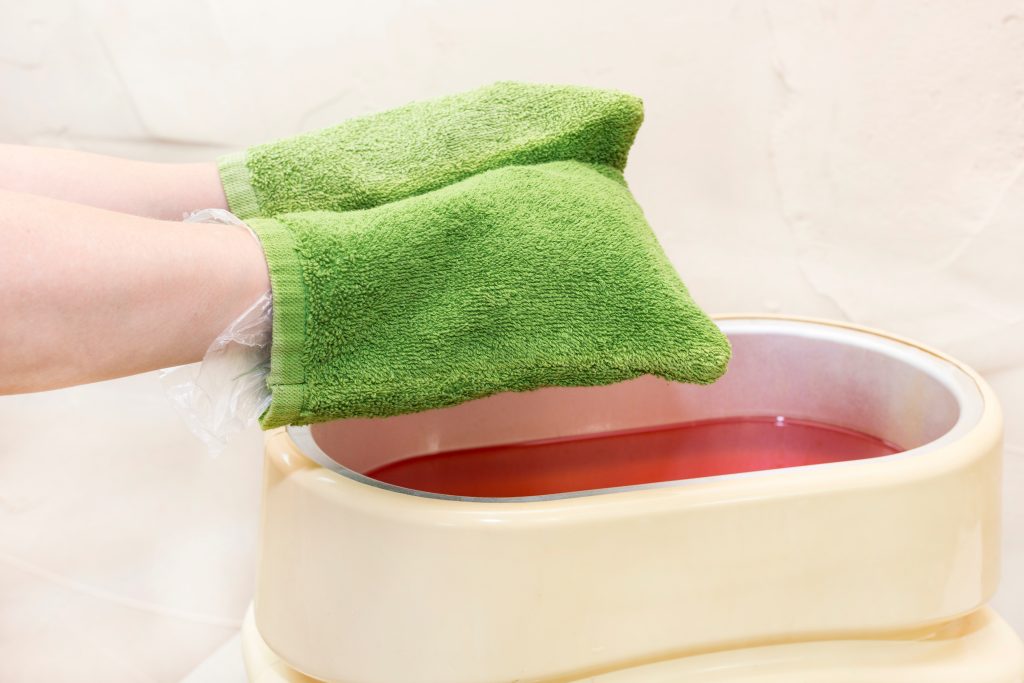 Most people use dipping and wrapping method. It involves dipping it in paraffin, removing it, and allowing it to cool and harden. The process involves approximately 7-12 dips, followed by wax paper or plastic wrap. Then covered by towels or insulated mitts. The wax has to cool for 20-30 minutes.
Immersion: Dip a hand once, then immerse for 15-20 minutes. Make a glove first and dry before immersing.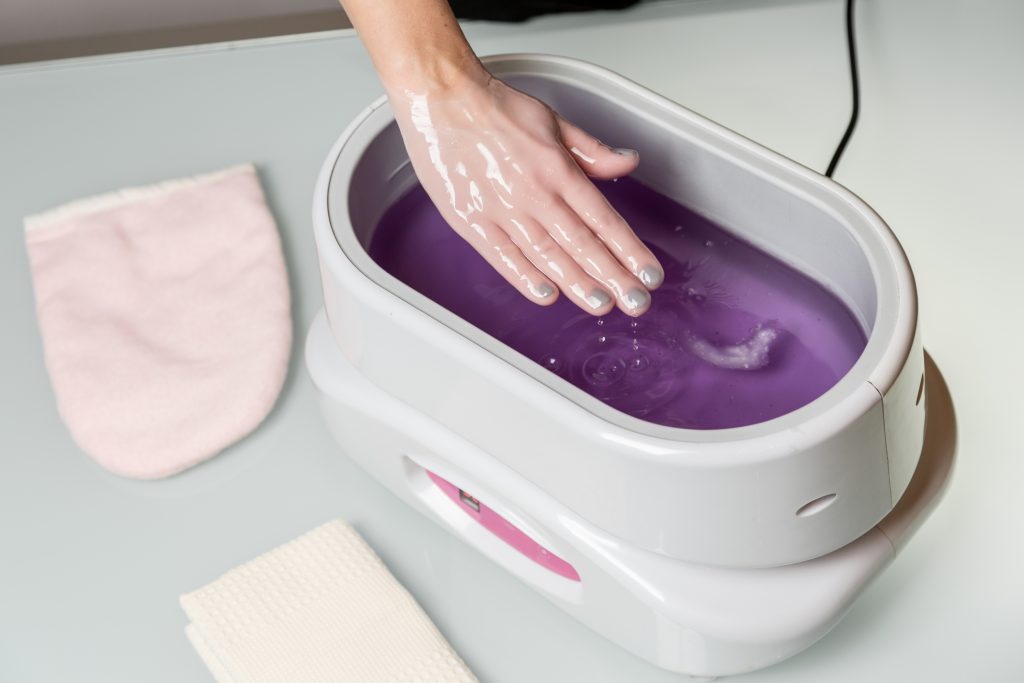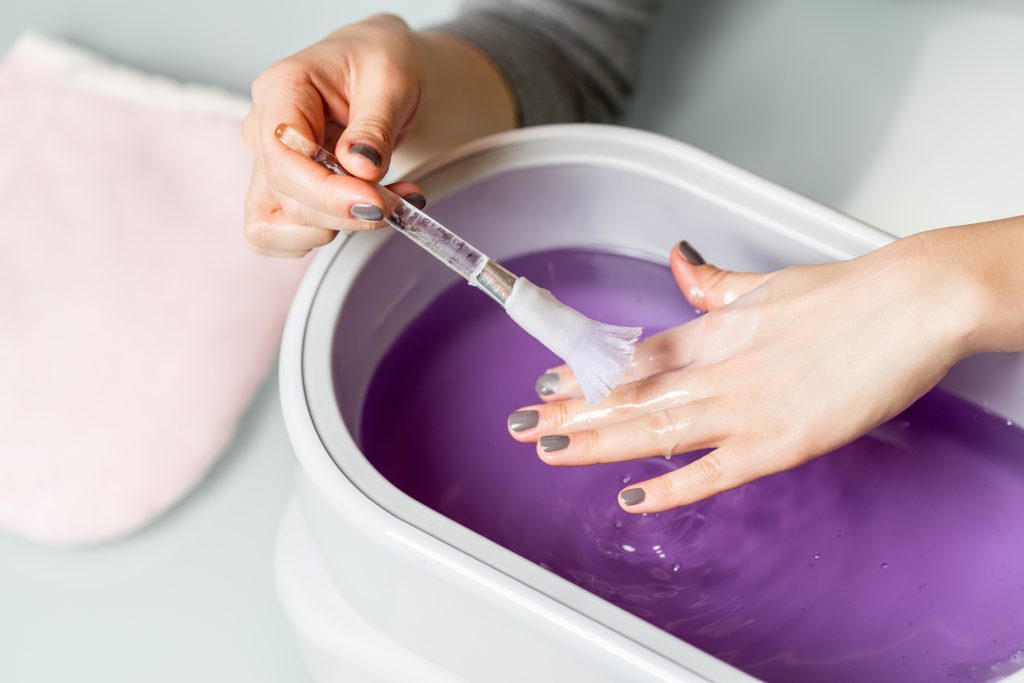 The brushing method involves applying 8-10 coats of wax to the area. With a paintbrush using even and rapid strokes. The area gets wrapped in a towel for 10-20 minutes, and then the wax is taken off and discarded.
Direct pouring method: Using a mug or utensil, the wax is directly poured on the part to be treated. Let the wax solidify for 10-20 minutes. You can apply several layers (4-6) of wax.
The toweling or bandaging method treats proximal parts of the body. This method involves dipping a towel or a roll of bandage in molten wax and wrapping it around the area.
Uses And Safety
Paraffin wax is a safe, non-toxic product used in hospitals, medical clinics, and beauty salons. You can use it to treat the skin, hands, feet, and nails while soothing muscles. It has been used for years in spas to help heal burns or injuries. And soothe sore muscles after sports activities like running or weightlifting.
Conditions
In physio clinics, especially outpatient centers, paraffin wax bath therapy tends to treat:
Muscle Tightness and Spasms
Overworked/Fatigued Muscles
Contraindication
Paraffin wax bath therapy is not suitable or recommended with the following conditions:
Skin sensitivity to mineral oils
Where To Buy?
If you live in the UAE, you can buy paraffin wax and paraffin wax bath machines at Gulf Physio. We offer a wide selection of items of physical therapy supplies that can fit any budget. We sell high-quality products at reasonable prices. For more info, please visit www.gulfphysio.com.
A Note From Gulf Physio
We hope you've enjoyed learning about the subject matter above. This blog post is not a substitute for medical advice. The author cannot guarantee the accuracy of the information presented. If you have any questions or concerns, please consult a healthcare professional. All decisions and actions you make are your own. No one involved in making this resource is liable for its use.