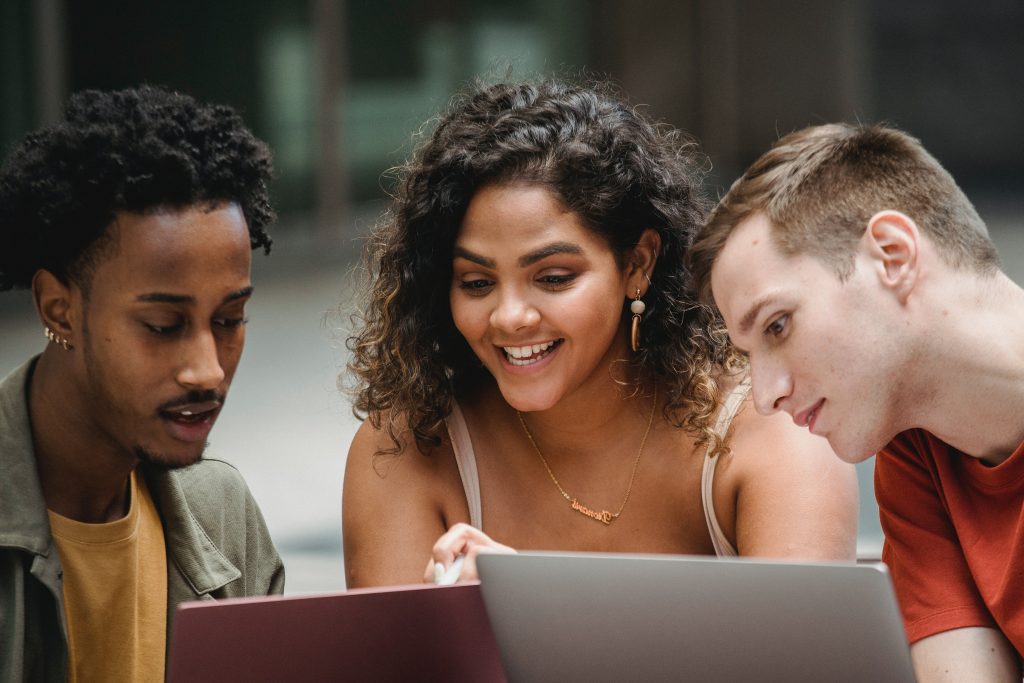 As a physiotherapist, your expertise is abundantly useful all over the globe. So setting up a physiotherapy clinic of your own beyond one country is a good idea, particularly in the UAE. That means, applying and passing an exam for physiotherapists.
Any professional would be lucky to have an opportunity to open a company in the UAE. In this article, you'll learn the steps to acquire your professional license as a physiotherapist in Abu Dhabi, Dubai, and the entirety of the UAE. Here's to the first step in advancing your career.
Which Should You Choose: MOHAP, DHA, or DOH?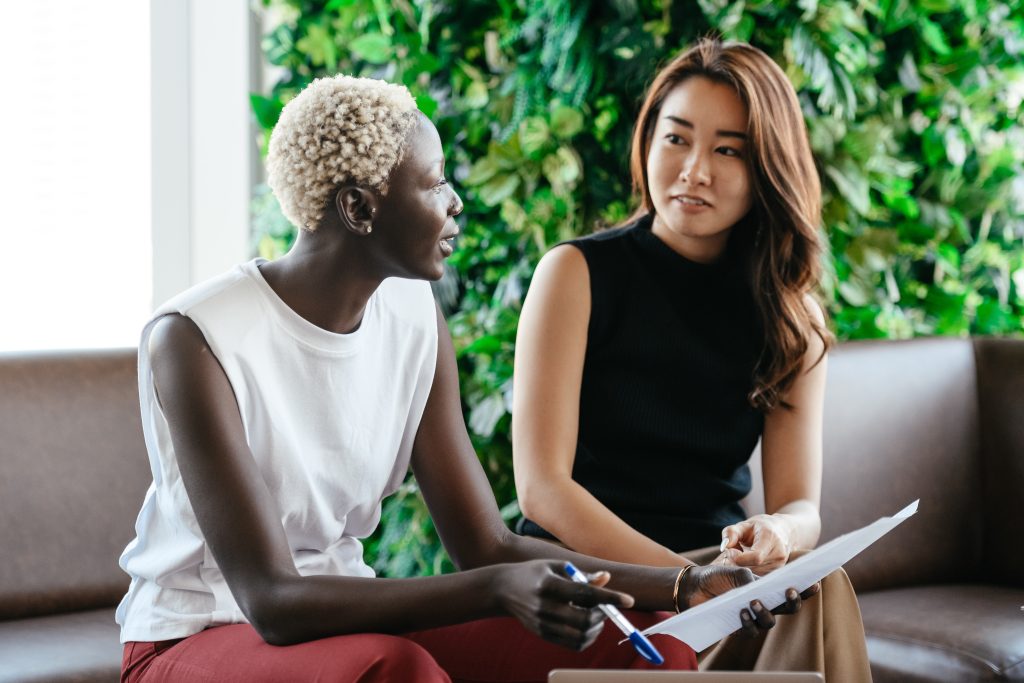 Before jumping into the application requirements and processes, you probably should pick which physiotherapy licensure exam you'd prefer to focus on. Your choices are between MOHAP, DHA, or DOH for the licensure examinations.
Keep in mind that this article is for you to choose which exam for physiotherapists you want to take and focus on that. We'll start with the easiest procedure, which is for MOHAP, and work our way from there.
For the MOHAP Examination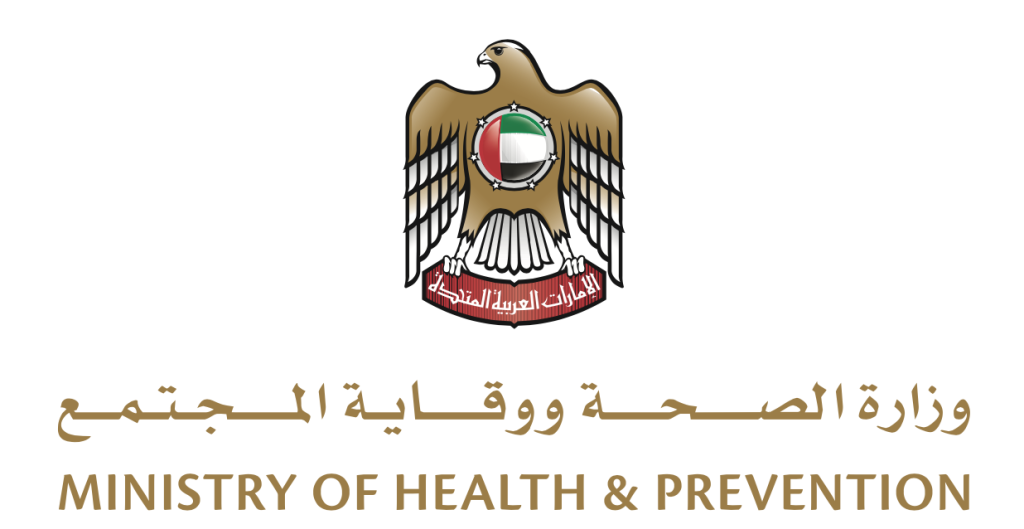 We'll start with the Ministry of Health (MOHAP) physiotherapy examination. Below, we have the basics, like documentation requirements to the stages of an exam for physiotherapists.
1. Getting Your Physiotherapy Exam Documents
By now, after your own experience with board licensure exams, you have a pretty good idea of what to expect with the paperwork. It'll take a while before you can gather all these for your application. Make sure to have copies of each one scanned and ready.
A. Proof of Professional Registration
First off, you do need to finish your studies and get your degree in physiotherapy. This is essential to go through your first physiotherapy board or licensure exam in your own country. These are usually provided by a professional association approved by the government.
Your professional registration from these designated regulatory bodies should include some, if not all, of the following:
Your updated and/or renewed medical license
A board certificate, which is like a diploma you get with your license
You'll also get a certificate of good standing upon request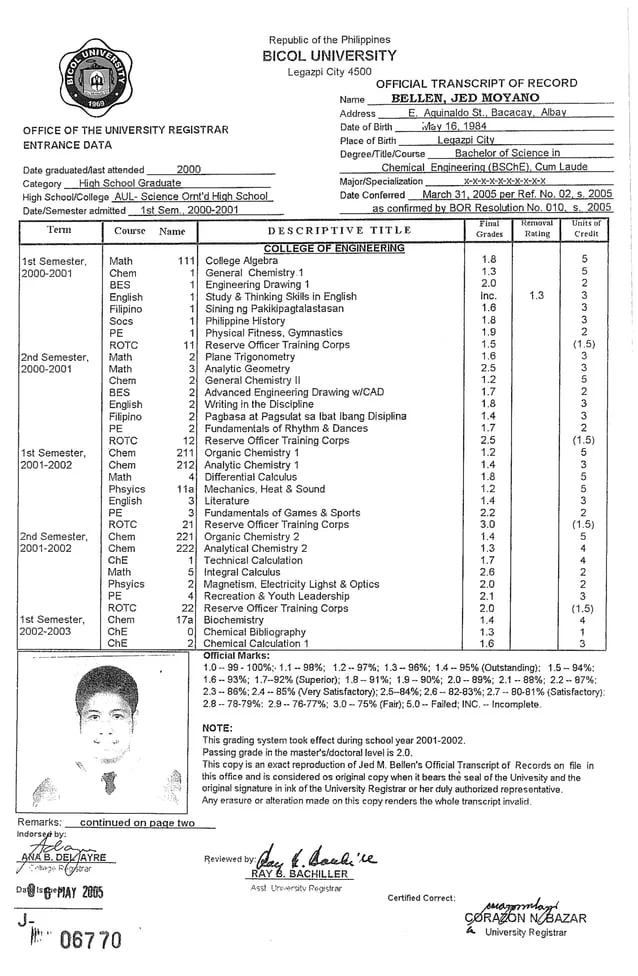 B. Transcripts of Records
If you already have your TOR from your previous physiotherapy board exam, you can use that already. If not, request another at your school. It should be complete with your RLE if it's available. The school itself should also get it authenticated by the DFA for processing, not you.
C. Copy of Your Passport
Processing your passport might take a while, depending on where you're from. Coordinate with the proper department to schedule an appointment to have your passport on time.
D. Passport-Size Photo
The photo should be clear and professional-looking, with a plain white or blue background. Typically, passport-sized photos are 4×6 cm.
E. Work Experience Certificate/s
There have been some cases where newly-graduated individuals are allowed to apply and take the MOHAP exam for physiotherapists. Do take the chance and apply as soon as possible.
If you're already in the workforce, you'll need a minimum work experience of 2 years. It applies to any physiotherapist in any field. Your certificates should have the contact information of your previous or current employers on their letterheads, along with their signatures and stamps.
F. Authorization Letter
You'll see a copy of the authorization letter on the site itself. This document needs your signature. Then, you can scan and upload it along with the rest of your requirements.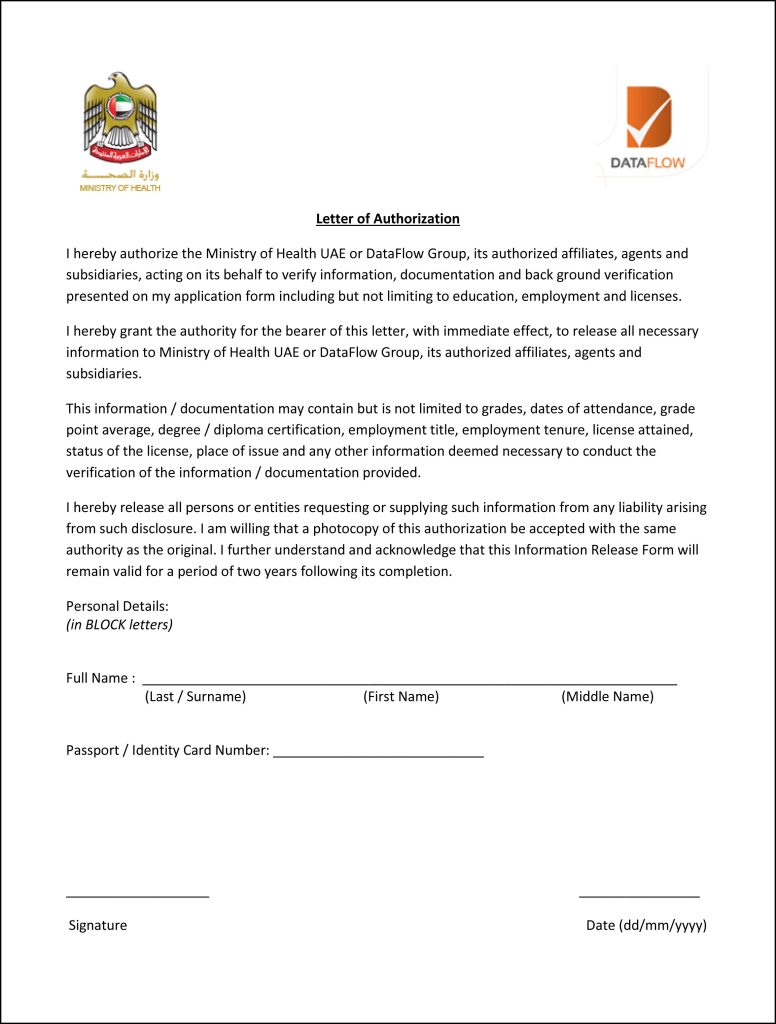 2. Constructing a MOHAP Account
The starting point for your MOHAP physiotherapy exam application is by making an account on the MOHAP website. On this website, you'll see a wide variety of services that MOHAP does offer its patrons, but you'll only be able to access them when you open your account.
To make your account, kindly type in a valid email address, contact number, and passport details. Wait for an account activation email to activate your MOHAP account. The link provided will help you log in. It'll redirect you to the all services page. The service you'll need is the evaluation service.
3. Uploading Your Credentials
Instead of sending the physical documents through mail, you get to use your MOHAP account for this evaluation service. This account also allows you to see the progress of your application, as well as your payment status. It'll take about 2 days to complete the credentialing process.
After reading and accepting the application declaration, pick the new evaluation option. In the following steps, you will be asked to fill in your information, as well as upload your equivalent qualification certificates. After reviewing everything, and possibly changing a couple of times using the previous button, submit your application.
You should consider the payment for processing fees at the end of your application, which is the next step. A good tip for this is to use UAE-based credit cards that'll lower your chances of getting overseas charges like conversion fees. When it's processed, take note of the R Number and the Request Number.
4. Completing Your DataFlow PSV
When you're uploading your documents to the MOHAP website, they do give you an option asking if you've already finished your DataFlow PSV. If you have, just fill in your relevant information. If you haven't yet, there's some good news for you.
Completing your application on the MOHAP website itself gives them the go-ahead to send your paperwork to DataFlow Group for you. DataFlow will then send you an email regarding the payment, which will range from AED 300 to 1,300. They'll start the PSV process once your payment has been cleared. The usual waiting time will be about 20 to 48 days.
5. Arranging Your Exam Schedule
Prometric is what MOHAP utilizes for its testing needs. This company uses computer-based testing (CBT) to see whether or not candidates are up to the standards of being medical professionals in the UAE. Using their website, you can schedule your physiotherapy exam after your DataFlow PSV has been verified. For the fees for Physiotherapists, it'll be about $240.
Side note, don't forget to get ready for the test. Your previous stint with your physiotherapy board exam is good practice already, but it's still an exam. A bit of review using possible practice tests and questions won't hurt.
6. Knowing the Basics of the Test
Not all physiotherapy examinations are alike. In the case of this particular exam, you have several parts to prepare for. The computer-based test will consist of 150 multiple-choice questions (MCQs) with a time limit of 3 and a half hours.
As for the possibility of retakes, you're only given around 2 chances for the entire assessment process. You can simply log in to your MOHAP account and choose the retake option.
7. Taking the Exam in the Testing Center
As for the testing centers, you'll find their full addresses on the Prometric website. The physiotherapy exams conducted by the MOHAP are done in Prometric testing centers worldwide.
Here are a couple of guidelines that'll help you on your exam day:
Try to be at the testing center at least 1 hour before the start of the exam.
Bring your appointment slip/receipt and your passport for verification on-site.
Once there, the people there will check your slip, passport, and biometrics.
You'll be given a key to a locker you can use since you can't bring anything else in your assigned room.
There will be constant monitoring of all test takers. Don't make unnecessary movements like fidgeting, glancing around, or talking to your seatmates.
8. Expecting Your Test Results
Expect that your results will come out in 2-5 days. In most cases, it's faster. Your MOHAP Account will also verify if you passed or not. You will receive an assessment certificate as well when you get your results.
9. Moving to the UAE
Even before going ahead with your small physiotherapy clinic set-up, looking for a job in the UAE will be a breeze after passing. The evaluation certificate itself will put you a cut above the rest. As for your license, your future boss will process it for you once you give them your certificate. What are you waiting for? Get your papers ready and pack your bags!
For the DHA License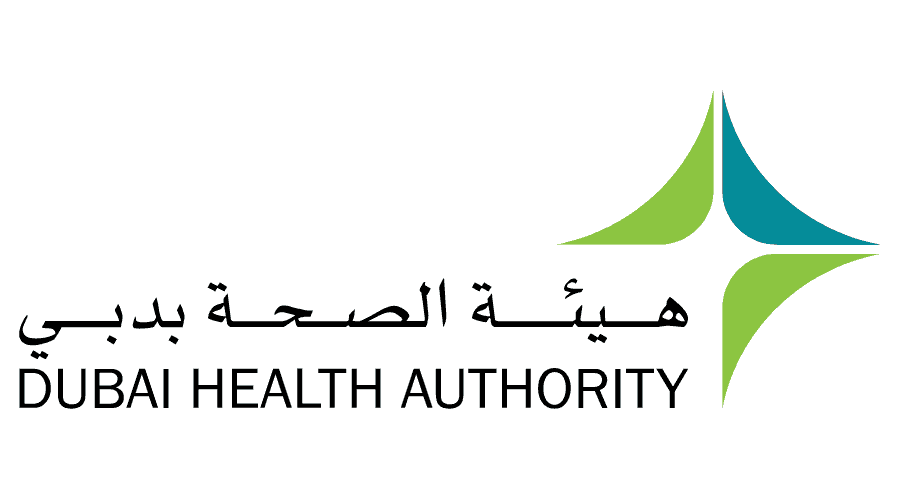 Next, we have the DHA or the Dubai Health Authority physiotherapy exam. Go through each stage to fully understand what you need to do.
1. Getting Your Physiotherapy Exam Documents
Like with DOH and your past experiences with your physiotherapy board exam, you know the drill. Arrange your paperwork before starting anything else in the application process. Scan them as clearly and completely as you can. Otherwise, you might need to rescan them.
A. Proof of Professional Registration
A specific government agency or a governing body adjacent to the government regulates current and future professionals using exams and licenses.
With your professional license, it should include the following as well:
A diploma-like certificate called a board certificate
A certificate of good standing, which will also be available if you put in a request for one
B. Transcript of Records
An older copy of your TOR will work if it is complete. If it's not, you can go back and ask for one from your school. Either way, you need to return to your college or university to get a DFA authentication.
C. Copy of Your Passport
D. Passport-SIze Photo
All photos for physiotherapy exam applications should be clear and colored. They require a plain white or blue background as well. The picture itself will measure 40×60 mm or 4×6 cm.
E. Work Experience Certificate/s
You have two options for work experience. The first one, you can apply as a fresh graduate with your license. In some cases, they might consider it. You can try if you can.
For the second one, you should have at least 2 years of experience working even in a small physiotherapy clinic setup. Avoid any gaps in your work experience. There shouldn't be a 6-month break between your last job and the date of your physiotherapy licensure exam.
The certificate itself should be stamped and signed, with the contact information of the company marked on the letterhead.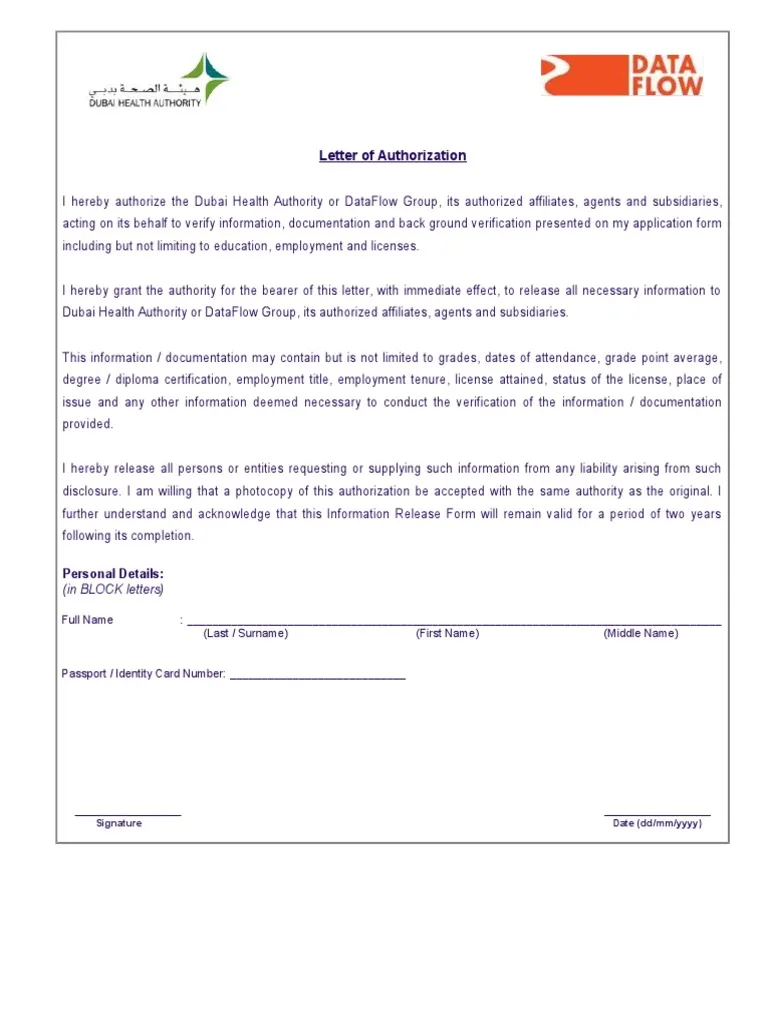 F. Authorization Letter
An authorization letter will be available after you transfer your documents to your account. The paper needs your signature, so print it out, sign it, and scan it along with the rest of your documents.
2. Generating Your Self-Assessment
First and foremost, you as a physiotherapy exam candidate need to know if you qualify for the license based on the category and position that you choose. Instead of you checking each qualification, and finding someone in your area that could help you, DHA has you covered.
DHA has a new licensing system in place to help regulate current and incoming health professionals. This system is called the Sheryan Self-Assessment System. It's very accommodating since potential candidates can check here instead of physically sending them to Dubai to check their qualifications.
Go to the Sheryan Self-Assessment Portal and follow their easy steps, like inputting your educational background, the start and end dates of your house job, and so forth. No worries about the cost, since this process is free of charge.
3. Constructing Your Sheryan Account
Getting your self-assessment through Sheryan doesn't require you to make your account, but going forward, you do need one. It'll give you your ID called the DHA Unique ID or Professional ID. You will be using this ID in the next step, which is your DataFlow PSV.
The website you're looking for here is the DHA "Single Sign On" Portal. Register here with your accurate details. Afterward, check your email account because you will receive your account authentication details to proceed.
4. Starting Your DataFlow PSV
DataFlow Group is a widely-used company in Dubai that specializes in background checks and, particularly, document verification solutions. This service they offer is called PSV (Primary Source Verification). It's where they authenticate your paperwork for you, which is a must when you want to be a healthcare professional in the UAE.
Go to their website to start your application for PSV. Register as a new user, use your DHA Unique ID, verify your account, and upload all the necessary paperwork. The list of requirements you will need is listed in the section above regarding documentation.
The application, once fully uploaded and processed, will take around 20 to 48 working days. Expect to pay AED 1,000 to 1,500, depending on the category and the number of documents you need to be verified. Additional documents will cost AED 300 to 500, give or take.
5. Arranging Your Exam Schedule
DHA uses Prometric, a company that provides worldwide testing services. They provide top-notch testing and assessment resources, particularly for medical licensing and certification examinations all around the world. It utilizes CBT or computer-based testing.
Once on the Prometric website, you'll use your DHA Unique ID or Professional ID to apply for your CBT exam. You'll be given a testing window for the category you choose. It also considers the time and location of your choice based on availability. The physiotherapy exam will cost $240.
By this time, you can review practice test materials while waiting for your exam date. You might not think it's that difficult, compared to your board exam, but you should still review for the possible new material. Thankfully, you can find a lot of useful materials online. There are even easily-accessible and accurate online quizzes with past exam questions.
6. Knowing the Basics of the Test
What you need to expect for the DHA license exam, it's mostly going to be computer-based. You'll only focus on the up to 150 MCQs (multiple-choice questions). The time limit for this exam is 2-3 hours.
You can also retake this test up to 3 times within 1 calendar year if you found some trouble in your previous times, provided that you did one of the following:
If you can procure an additional certificate or qualification recognized by DHA themselves and listed on the DHA website to apply for a higher position
If you apply again 2 years after your third assessment result has been published while maintaining a no-gap working experience
7. Taking the CBT Assessment
You shouldn't just appear out of the blue at the test center without considering the following pointers:
Bring your passport, an additional government-approved ID, and a copy of your Prometric Assessment Confirmation Email. They will be checked there.
To be safe, check the date, time, and location of the testing center. Arrive there an hour or more before the test.
After the personnel check your paperwork and biometrics, you'll have time to check out and put your stuff in the locker they will provide for you. It has a key and everything. You don't need to bring anything else to the testing room.
To avoid cheating or tampering, security cameras, and staff will closely monitor the test takers. No unnecessary and excessive movement or breaks, and keep your eyes forward.
Don't forget to receive your attendance confirmation letter and your belongings right after the test
8. Expecting Your Test Results
It's good that it only takes days before the release of the test results. It's going to be 3-5 days, or 2 days if you're lucky. You will be updated through your Prometric account and your email.
9. Registering as a Professional
When you get your Eligibility letter, you can now register as a professional at the Sheryan website as well. There will be an option to "Register a Professional". Of course, you will need to provide some of your information as confirmation, including some of your previous documents.
You'll pay for this service as well, around AED 200, before submitting your application. When you're done, the relevant authorities will look through the results of your PSV and CBT, and you'll know how to proceed from there. They'll either approve, reject, or ask you for more information about your application.
10. Acquiring an Oral Exam Schedule
There will be a chance that the professionals behind DHA will ask you to take another assessment. This time, it'll be an oral assessment. A panel of people in Dubai will interview you regarding your profession.
Like your previous test, you need to submit another online application through the Sheryan website to schedule your oral assessment. When your requirements have been approved, then you can pick the time and date. There will be two types of oral assessment that you may encounter:
Routine Assessment
Special Assessment – this kind is for rare specialty assessments, like Podiatry
11. Activating Your Professional License
When you pass both your CBT and oral assessments, you'll be a fully registered DHA professional. To reap the rewards, you need to activate your professional license through the DHA portal.
Another application is required from the applicant, but this time, under professional registration. After around 10 working days with the successful submission of your application, and your Eligibility Letter, your request will finally be then approved.
12. Moving to the UAE
When you pass the physiotherapy exam, you won't need to process your license yourself. An employer will do it for you once you acquire a job in the UAE, including Dubai and Abu Dhabi.
Before you start a business in UAE, you might have some trouble finding the right physiotherapy job for you in the meantime. It's not that hard to look through countless resources online, like this one on how to get a job in Dubai, for instance.
For the DOH Exam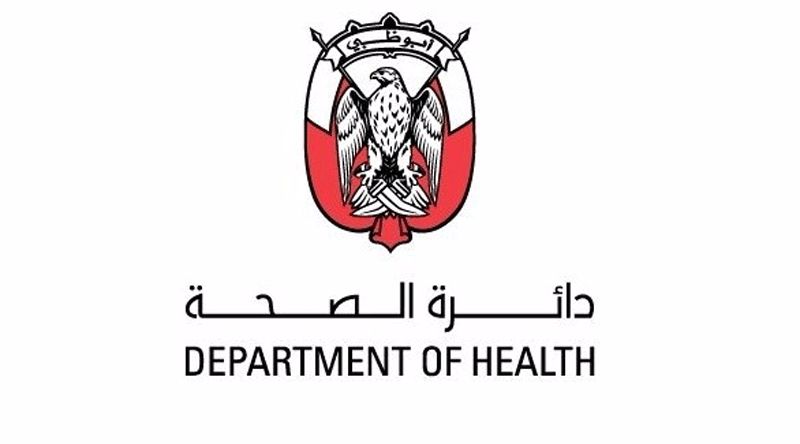 The Department of Health (DOH), previously known as the Health Authority of Abu Dhabi (HAAD), has a physiotherapy exam that's a bit different from the previous two exams. It does focus on their capital city, after all.
1. Getting Your Physiotherapy Exam Documents
With all applications moving forward, every possible applicant is required to have the following documents scanned and ready before proceeding:
A. Proof of Professional Registration
Local government authorities want to make sure that medical professionals are regulated and updated with the utmost care. Hence, taking and passing the licensure exams in your country is a requirement too.
From your country of origin, your professional registration may differ. Typically, these papers include the following:
License: Your professional license should be relevant and up-to-date.
Board Certificate: This diploma-like document is given to you along with your license
Certificate of Good Standing: You can request this for the exam
B. Transcript of Records
You can use the previous copy of your TOR for your DOH physiotherapy exam application. Make sure you have every page, including your RLE if you have it.
If you do not have your TOR authenticated yet, this is your time to do so. The school you attended for your degree is the one to handle the authentication process from the DFA for you.
C. Copy of Your Passport
D. Passport-Size Photo
Something to note about your passport photo. The size will be 40×60 mm. It should be clear and colored, with either a white or blue background.
E. Work Experience Certificate/s
Any qualified applicant is required to have a minimum of 2 years of work experience as a physiotherapist, albeit in any public or private sector. There also shouldn't be a 6-month gap in your work experience either.
The experience certificates should be scanned, so that the contact information on the letterheads will be visible. They should also be stamped and signed properly.
Being a fresh graduate shouldn't discourage you from applying. You can still be considered, though apply early on.
F. Authorization Letter
During your application online, you'll be asked to print out, sign and scan an authorization letter to let the personnel from DOH use your information legally. Upload it along with the rest of your credentials.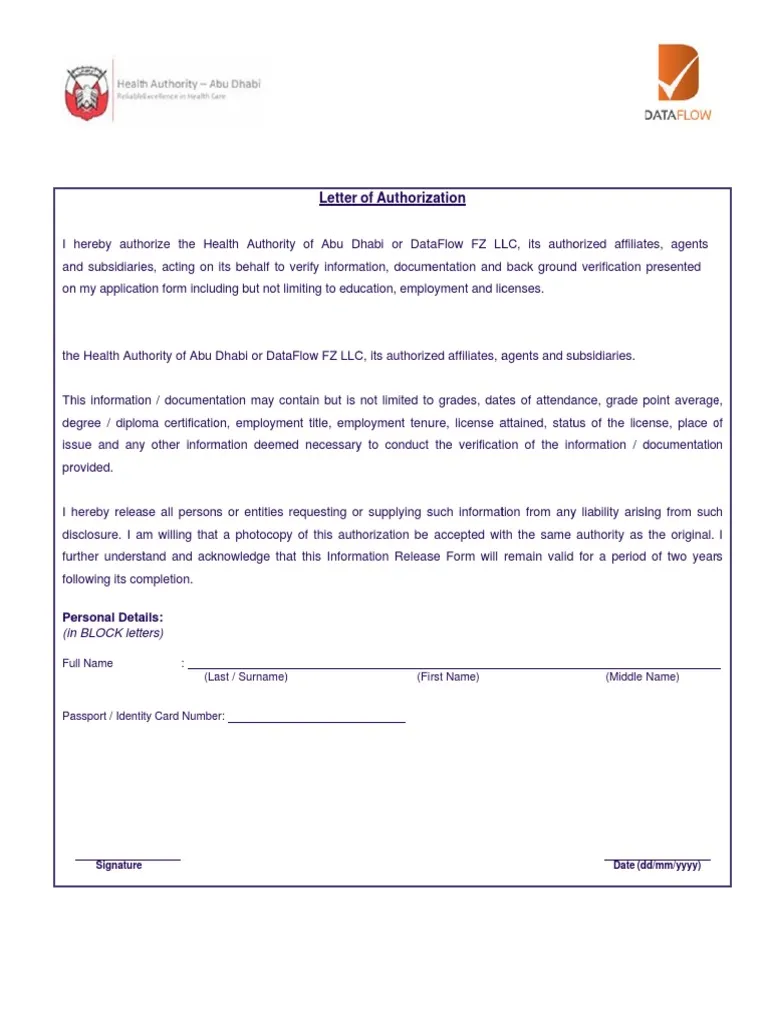 G. CID Form
CID stands for Crime Investigation Department. To investigate your background further for possible criminal cases, you'll need to download this form and fill in the blanks before uploading it with your authorization letter later.
2. Acquiring a UAE Pass
If you are applying overseas and you possibly don't have a UAE – Emirates ID yet, you can use what's called a UAE pass. This pass is valid all around the UAE as your very own digital ID. Even though you'll need an Emirates ID to fully verify it, it'll still let you access several DPH services, including an application for a DOH license.
You only need to download the UAE Pass app and have your email address and a valid UAE phone number to proceed with your application.
3. Generating Your UIN
For the DOH services themselves, that means it's time to go to the TAMM website. This website will also show you other relevant information about Abu Dhabi. Here, you'll need to get your own Unique Identification Number (UIN) for the next step of your application.
On the TAMM website, sign in with your UAE pass and register as a new user. Your information from your UAE Pass app will automatically be in your TAMM account. Complete any missing information, including your phone number. Pick your user type (to apply for a new DOH license) before submitting your application.
Keep in mind, get your UAE-based credit card ready. TAMM DOH Application will cost around AED 100, while DOH Booking will be about AED 50.
4. Starting Your DataFlow PSV
Before the personnel at DOH can tell whether a candidate is qualified to get a license, they first need to check if the candidate's documents are authentic. That's where the DataFlow Group comes in. They provide the PSV (Primary Source Verification) service for the most prominent establishments, including the Health Department in the UAE.
Sign up as a new user through the DOH DataFlow Portal. You'll start as a new applicant. You'll receive a confirmation email after you put in your email address. You'll then log in with your details and change your password.
Upload all your relevant data and documents under the new application package. Expect to pay give or take AED 1,000 to 1,500, depending on any additional documentation. As for the waiting time, it'll take 20 to 48 days to complete.
5. Completing the Credentialing Process
Your Primary Source Verification is done, so it's time for the credentialing process. It'll check your eligibility for the category of your choice, which will be for Physiotherapists. Go back to your DOH UMS (User Management System) dashboard and add a new service. Connect your DataFlow PSV with your DOH UMS using your DataFlow case number.
Upload your credentials and other relevant information after choosing the professional registration/re-registration option. Once again, upload all your necessary paperwork, and pay the aforementioned fee. On your dashboard, you'll see when your application is complete.
6. Constructing Your Etarasol Barcode
You're one step closer to finishing your application. You next need an Etarasol barcode from the Etarasol website. It might look a bit sketchy, but all you need to access the website is to check your Internet Explorer's compatibility settings. To continue, ready your UID, or unified number from your Visa.
There will be sections where you'll input your information both in English and in Arabic. Might as well use Google Translate. After each step, click the next button. If you lack some of the data, like a possible sponsor in UAE, you can skip those sections. When you're satisfied with your data, print your Etarasol barcode out.
7. Arranging Your Exam Schedule
As opposed to MOHAP and DHA, DOH doesn't use Prometric for their testing needs. Instead, they went with Pearson Vue, an established company that conducts professional examinations for them and numerous other entities worldwide.
You'll be sent an authorization letter from Pearson Vue once your PSV verification and DOH credentialing process is complete. By that time, pay for the exam through your TAMM account before scheduling. It'll be about $95.
Using your username and password, log in to Pearson Vue. Pick your desired date, time, and location, depending on availability.
8. Knowing the Basics of the Test
The DOH licensure exams' computer-based test will feature a time limit of 2 ½ hours for its 100 multiple choice questions (MCQs).
Retakes for this examination are a bit more forgiving because you can take it up to 3 times if you've failed before. You'll need to apply again through DataFlow so you can take the test again. For the first 3 tries, there doesn't seem to be a specific time limit to discourage you.
9. Taking the CBT Assessment
The day of your exam comes along, and you need to know a couple of rules for that:
It's best to arrive at your designated testing center 1 hour or more before the start of our actual exam.
Along with your other essentials, pack your passport, an additional ID, and the printed-out exam ticket, because they'll check it there. They'll also check your biometrics for further verification.
You will be given a key to a locker to store your stuff for the duration of the test. You can't bring anything else while taking it inside the room.
It's an exam, so the person in the room and security cameras will closely monitor you as you answer the test. Don't make any excessive movements like glancing or talking to your seatmate.
10. Expecting Your Test Results
The results of your physiotherapist test will be out in about 3-5 days. You might even get a notification from your DOH account in just 2 days. The information that you'll get will either be a pass or a fail.
11. Moving to the UAE
Congratulations on passing the exam. You'll get your license once you get your first job in the UAE. You can even get your Visa and scout that perfect job yourself.
Talk to your employer once you get it, and they will gladly process your license for you. At this point, you can already get your papers ready for travel.